Who We Serve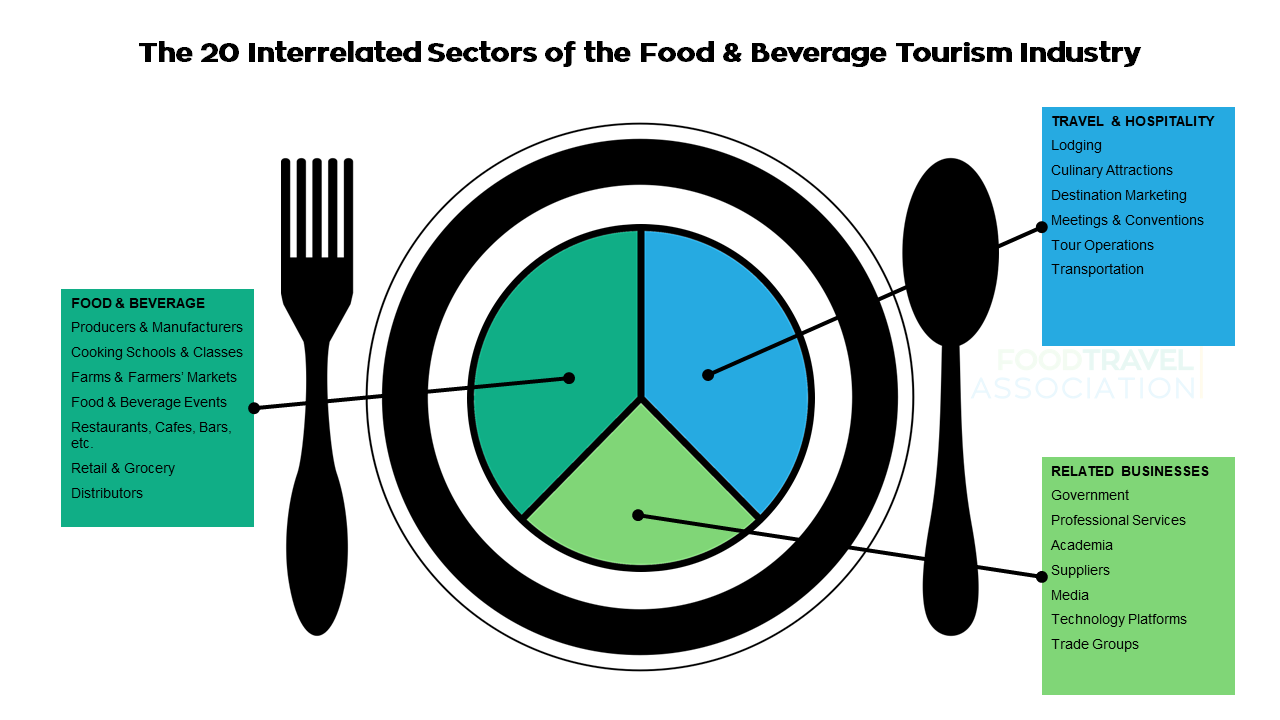 ---
What We Do: We Create Economic Opportunities
Research shows that 93% of travelers create long-lasting, fond memories based on their experiences with an area's food and beverage. The distinctive local food and beverage products, culinary history and hospitality are the foundation of an area's character, and that's what attracts both visitors and locals.
---
Where We Came From: Our History

In 2001, Erik Wolf (pictured left) wrote a white paper Culinary Tourism: The Hidden Harvest.  Just two short years later, he founded the organization known as the International Culinary Tourism Association. The Association rebranded in 2012 as the World Food Travel Association after research showed that English speakers misunderstood the intended meaning of "culinary tourism".  Erik continues as the Association's Executive Director today (find his biography here). Just one point of clarification: our organization's full legal name is "International Culinary Tourism Institute" but we don't use that very often. We registered "World Food Travel Association" in the US State of Oregon as a "trading as/doing business as" name. That is the name by which we are known publicly.
The Association has always been at the forefront of education, research and trendspotting in the world's food and beverage tourism industry. In its first 10 years, the Association hosted international conferences (2004, 2005, 2010, 2013, 2017) and regional USA seminars and conferences (2006, 2007, 2008, 2013, 2104, 2015, 2016). The Association also conducted the world's first global study about food travelers in 2007, which was updated and expanded in 2010, 2013 and 2016. In 2006, the original white paper from 2001 was updated and turned into a book, also called Culinary Tourism: The Hidden Harvest. Then in 2014, the Association published Have Fork Will Travel, a handbook for industry professionals that details over 50 interrelated components of our industry, and helps all kinds of professionals to understand what food and beverage tourism is, and how to benefit from participating in our industry.
Over the years, our Association has grown in its membership, scope of activities, and visibility. Today, we shepherd a community of more than 50,000 professionals in 139 countries. We engage in five primary areas of activity, namely Education (training and publishing); Intelligence (research and strategy); Events; Community (membership & leadership); and Awareness (awards,  consumer initiatives).  We are the go-to resource for writers, videographers, producers and bloggers around the world and have served many of the world's major media outlets including the BBC, Newsweek, Business Week, CNN, Associated Press and Forbes. In our nearly 20 years, the World Food Travel Association has achieved leadership status and respect in food, beverage, tourism and hospitality circles world-wide.
PEOPLE WHO HAVE HEARD US SPEAK:  100,000+
COMMUNITY SIZE:  50,000+
COUNTRIES REPRESENTED:  139
NEWSLETTER READERS: 23,000+
LINKEDIN GROUP MEMBERS: 11,000+
FACEBOOK FOLLOWERS: 4,000+
TWITTER FOLLOWERS:  ≈ 2000
CLIENTS SERVED: ≈ 350
WORLD CONFERENCES PRODUCED: 5
REGIONAL CONFERENCES PRODUCED: 10
BOOKS PUBLISHED: 2
---
Where We're Going: Our Future
In our 2015 State of the Industry report, we asked professionals in our industry what they expected for our industry in the next 10 years, and what they wanted to see. What was our future and how would they like our industry to evolve? We incorporated their feedback into an industry initiative called "Food Tourism 2025". So far, this has led to the development and introduction of new tools, products and services such as our annual FoodTrekking Awards, our various events and our Business of Food Travel podcast. Over the next several years, we will continue to work with our industry to develop and/or refine our products for both professionals and consumers. Would you like to help us chart the course for the future of our industry? Join us and become part of our journey.
---
How We Operate: Our Funding
Our primary revenue sources are education and research.  As a US-registered 501 (c) 3 non-profit organization, we rely entirely on program revenue, donations and sponsorships to produce our quality programming.  And as a non-profit organization, we are authorized to issue tax donation letters, which may offer a tax benefit to US-based individuals and businesses. If you're located outside the USA, your donation may still be considered deductible as a business expense (consult your accountant for advice). We do not engage in any advocacy work.
---
How We Lead: We Create Firsts
We've earned, and maintained, our leadership role, partly due to the following accomplishments for our industry:
---
How We Get the Word Out: Our Leadership & Community
The Association is managed by an Executive Director, Erik Wolf.
We are fortunate to work with a committed Board of Directors and passionate Board of Advisors, who share our mission. Each individual shares their strengths in their respective areas.  Directors and advisors also serve on one of our committees: Membership & Member Experience; Finance & Partnerships;  Events & Activities; Marketing & Promotions; and Education & Research.
Meet our Directors and Advisors
We also work with a network of Certified Ambassadors around the world as our trained representatives in their own areas.
Over time, we have developed a carefully curated list of nearly 2000 journalists world-wide in television, radio, print, and blogs. Just a few of the media outlets we've worked with include the BBC, Newsweek, Business Week, CNN, Associated Press and Forbes.  If you're a qualified media professional, please introduce yourself to us.
We also work with committees for product development and marketing initiatives.
---
Who We've Worked With
Below is a representative list of clients with whom we have worked since our founding in 2003. 
Governments & Tourism Offices

Alberta Agriculture & Forestry (Canada)
Basque Country (Spain)
Baton Rouge Convention & Visitors Bureau (Louisiana)
Colorado Tourism Office
Discover South Carolina
Dutchess County Tourism/Culinary Institute of America (New York)
Experience Columbus (Ohio, USA)
Failte Ireland
Finger Lakes Tourism Alliance (Penn Yan, New York)
Fredericksburg (Texas) Convention & Visitors Bureau
I Love New York (State)
Missouri Division of Tourism
Ohio Tourism
Oregon's Mt Hood Territory
Park City Chamber of Commerce & Visitors Bureau
Pennsylvania Dutch Country CVB
Position Skåne (Malmo, Sweden)
Rhode Island Division of Tourism
Santa Barbara CVB and Film Commission
Santa Maria Valley Chamber & VCB (California)
Sarasota CVB (Florida)
Tampa Bay Beaches (Florida)
Travel Alberta
Travel Iowa
Travel Nevada
Travel Oregon
Travel Wisconsin
Tri-Cities Washington
USAID (Jordan)
Visit Arizona
Visit California
Visit Finland
Visit Indiana
Visit Scotland
Visit Sweden

Associations & NGOs

American Marketing Association
Association de l'Agrotourisme et du Tourisme Gourmand (Quebec)
British Columbia Culinary Tourism Society
British Columbia Restaurant & Food Services Association
Competitiveness Institute
Cultural & Heritage Tourism Alliance
Destination Marketing Association International
DMA West (formerly Western Association of Convention & Visitor Bureaus)
Direct Marketing Association
Downtown Colorado Inc
Good Food Ireland
Gothenburg & Co.
Great Wine Capitals of the World
Louisiana Travel Promotion Association
National Tour Association
Northwest Travel Professionals
Poland Culinary Tourism Association
Professional Innkeepers Association International
Shop America Tours
Southeast Tourism Society
Southern Oregon Visitors Association
UNESCO
United Nations World Tourism Organization (UNWTO)
Wellness Tourism Worldwide
Willamette Valley Visitors Association
Winemakers' Federation of Australia

Media

Arirang Network (South Korea)
Associated Press
British Broadcasting Corporation and BBC Travel
CNN
Newsweek
Australian Broadcasting Corporation
Gourmet Magazine (USA)
PeterGreenberg.com
Sky Network (United Kingdom)
And hundreds of additional radio, television, magazine and newspaper outlets and journalists throughout the world.

Corporations & Academia

Absolut Company

American Express, Corporate Services Division (New York, NY)
American Express, Direct Marketing Process Management (New York, NY)
Chemonics
Chonbuk National University (Jeonju, South Korea)
Eugeniusz Piasecki University (AWF) (Poznan, Poland)
GLP Films
Keimyung University (Daegu, South Korea)
KOAN Consulting (Madrid, Spain)
National University of Natural Medicine (Portland, Oregon, USA)
New Vision Training Consultants (Cape Town, South Africa)
New York University Tisch Center for Hospitality Tourism & Sports Management

Conferences & Events

1st Conference on Gastronomy & Wines (Porto, Portugal)
Cape Food & Wine Tourism Conference (Cape Town, South Africa)
Congreso Turismo Enogastronomico (Bilbao, Spain)
Eat Spain Up
Go West Summit
International Meetings & Incentives Conference (Santorini, Greece)
Matlandet Konferensen (Sweden)
National Wine Marketing Conference (USA)
Northwest Foodservice Show
Tennessee Tourism Roundtable
TTRA's Marketing Outlook Forum
World Travel Market