Our Master Culinary Travel Professional (MCTP) program is the next iteration of our Association's comprehensive training in food and beverage tourism. 
The MCTP is based on 10 years of education, training and certification pioneered by our Association under our original Certified Culinary Travel Professional program, the world's oldest and best respected training in food and beverage tourism.

The former CCTP program was retired in 2018 to prepare for the MCTP program, which launched in early 2019.
Our MCTP program is designed to meet the needs and learning goals of today's learners - people just like you. Other food tourism training available today is either just a small part of a larger course, does not provide sufficient depth of knowledge, or is typically very expensive. Few people have the time or extra money to justify longer, more expensive training. You want high-quality food and beverage tourism education delivered quickly and efficiently. That is what the MCTP provides.

Our goal is to provide you with the best quality food and beverage tourism training that is comprehensive enough and customized to your needs, so that you are much better prepared to succeed with your career or business goals. And doing so at a tremendous value to you. And most importantly, all of this can be done from the comfort of your own computer, webcam and microphone. You don't need to travel anywhere. You don't need to pay room and board. You don't need to go through a time-consuming or expensive application process.

So what is stopping you?
---
The MCTP is a robust program with the following components:
Our three core Masterclasses, plus two additional elective Masterclasses (100% online)
High-resolution PDF handouts for each of the 5 Masterclasses you choose
Each Masterclass requires a comprehension exam with a passing score of 70% or higher (also online)
Printed copy of our Have Fork, Will Travel Handbook airmailed to your preferred address anywhere in the world (you pay customs duties, sorry, we cannot provide a digital copy due to our publisher's restrictions)
Access to online training materials for one full calendar year.
Writing a research paper or article on a subject of interest (minimum length 2500 words). If you are not comfortable writing in English, you may write in your own language. We have faculty advisors who speak many languages but if we do not speak your language, we will use a tool such as Google Translate to read your paper/ article written in your own language. You will receive detailed feedback on your paper and can discuss it with your faculty advisor as well
Total education/training time is estimated at approximately 24 hours. This can vary depending on your level of comfort with English as a language of instruction, how much faculty instruction you need, and how long your final research paper is.
Unlimited audio or video conference calls with your faculty advisor during your program (explore any path - academia, business, NGO - your choice)

For the final paper, you can write a business plan instead - perfect if you plan on starting (or improving) your own business.

Your initial MCTP certification lasts one year.  You may optionally renew it to maintain your certification for a longer duration (although your degree is still valid). If you choose to renew, you will need to enroll in and successfully pass the exam for, one additional Specialty Masterclass per renewal year (choose from the list below, more will be added soon, there are no additional recertification fees except for the enrollment fee for the Masterclass you choose). You will receive an updated MCTP logo each year that matches your certification level/progress.
What Else You Get
Access to our industry's most current food and beverage tourism information
Customized learning with your faculty advisor based on your own interests and needs (i.e. no two people follow exactly the same path)
Up to one year worth of follow-up calls (maximum 6 hours) after you graduate
After you graduate, article published about you on our news page (you provide article, we will edit and post), plus sharing on all our social media properties
Graduation diploma
Use of the "MCTP" designation after your surname (such as how people use PhD)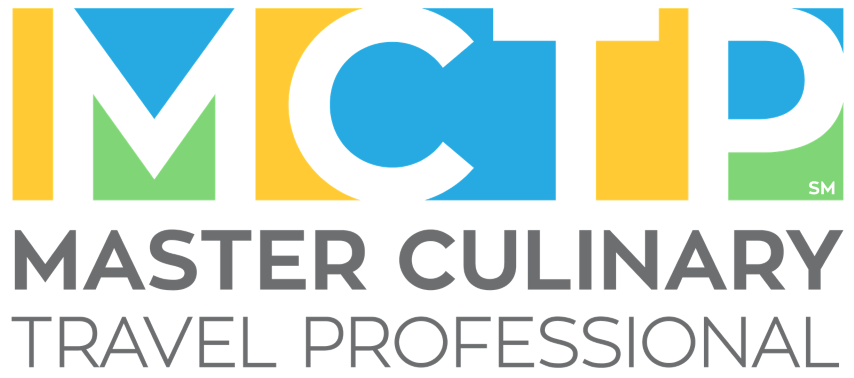 Members find your discount codes in the Members Area once logged in.
Graduates of the former CCTP program, please get in touch for a generous discount.
Purchase requires manual processing. Please allow up to 24 hours for fulfillment.