Presenting the 2016 FoodTrekking Awards Winners
BEST FOODSERVICE EXPERIENCE FOR VISITORS
1st Place: Restaurant Aanaar at the Hotel Kultahovi, Inari, Finland
Runner Up: La Cuina del Vent, Catalonia, Spain
 
BEST FOOD/BEVERAGE DESTINATION EXPERIENCE
BEST FOOD/BEVERAGE TOUR OPERATIONS (LAND)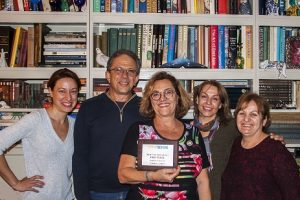 1st Place: 
Turkish Flavours
, Istanbul Turkey (pictured left)
BEST BEER EXPERIENCE FOR VISITORS
BEST WINE EXPERIENCE FOR VISITORS
About the Awards
The World Food Travel Association introduced the FoodTrekking Awards in 2015 to recognize the excellence of experience afforded to customers and visitors by industry stakeholders representing the various awards categories. Applications are processed by a panel of judges, who are experts in the various categories represented. Judges assess how well each applicant has met the criteria. Winners are announced publicly and receive a handsome color plaque and generous publicity from the Association. Visit the main Awards page.