Is your business or destination Food Tourism Fit?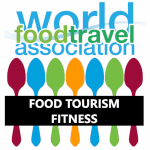 Research shows that 93% of travelers now seek unique and memorable food and drink experiences. (Source: 2016 Food Travel Monitor)  "Food tourism" connotes different things to different people. For some, it's the Michelin star restaurants (actually, only about 18% of all food lovers prefer gourmet options first). For others, it's food trucks. Still for others, it's farm visits or an agriturismo in Italy. Each of those is part of what we call "food tourism" but our industry is so much bigger than that! Not sure what we mean by "food tourism"? Learn more here.
Simply promoting gourmet restaurants and food festivals, or offering a restaurant list featuring 100+ world cuisines, are limited in appeal. Did you know that there are 13 different kinds of food lover "personalities"? Not everone seeks gourmet products and experiences, just like not everone seeks a food truck experience. You want to be sure that you're reaching the right kinds of food lovers, don't you? 
Reaching food lovers can be lucrative for everone: businesses, destinations and groups. Even if you run a single restaurant or cafe, wouldn't you want to fill empty tables on slow days with travelers to your area? As a destination, don't you want to attract more visitors in low season? And as a group, don't your members want innovative ways to find more customers? The Food Tourism Fitness report helps you do all these and more.
Our new Food Tourism Fitness report is designed to help every bustiness type to benchmark what they're doing well and highlight areas in need of improvement. It is an exclusive benefit of Platinum business membership. That's right - you get the report plus a full business membership for a year! No extra costs or fees. It's all included. And it's not a one-time report: you get an updated report each year to track your progress!

Read below to learn more about the Report and everything included.
Ask Yourself ...
What if you knew how your business or destination compared on the world stage? How would you use this kind of information?
What if you could tap into the experience and knowledge of the world's leading authority on food tourism and experts from the world's food tourism industry?
What if you had a fresh and different analysis that you could weave into your annual strategic plan?
What if you had the foundation for a solid roadmap to show your finance department, investors, board of directors, government officials, members and staff?
The Food Tourism Fitness report helps with all of these and more. 
Choose Business or City Destination Report.
Note: this requires manual processing. You will receive a response from us within 24 hours of your confirmed order.
OUR FIVE PRODUCT PORTFOLIOS
Membership, Ambassadorship & Thought Leadership
Masterclasses, Master's Program & Training
Global, Online & Regional Events
Awards, Accreditation & Consumer Campaigns
Market Research, Strategy & Development
---