The World's First Food Travel Business Podcast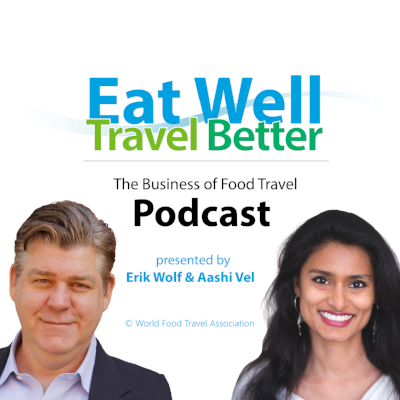 Introducing "Eat Well, Travel Better: The Business of Food Travel" Podcast with Erik Wolf and Aashi Vel, where we help you become a better industry professional by gaining inspiration from some of the world's most successful people in the food and beverage tourism industry. With each episode, we meet these leaders and examine their secrets of success. We reveal the obstacles and challenges they have faced, along with their solutions and triumphs, and give you ideas and inspirations for many of the same business issues that you may be facing as well.
See to the right for information on how to appear on a future episode or listen to current episodes below, right in your browser. 
 
 (for Stitcher you'll need to get the Android or iOS app)
---
Past Shows
Episode 4: Sean Kuylen - The No Barcode Chef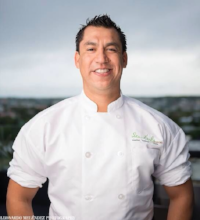 Sean Kuylen [pronounced kwee-len] is a Belizean chef, trained in Culinary Arts and Hospitality Studies in San Francisco, California. After culinary school, he ventured into resorts in Belize, St. Vincent, the Grenadines and Dominica, where he began to explore and appreciate Caribbean Cuisine. Then five years ago, he returned to his home country Belize with a new found respect and appreciation for the local ingredients, cooking technique and especially the cultures of Belize. He has since become the authority of our country's food or what he calls, "Inspired Belizean Cuisine". Chef Sean simply takes the many cultures of the country and presents their food in a more contemporary way with techniques from the French techniques and training he learned in culinary school.
In this episode, you'll learn:
Why you need to be true to your cuisine (don't try to imitate).
Why it's important to preserve traditional cooking techniques.
Why it's important to be proud of what you have - your heritage, culture and ingredients. 
Why infrastructure is crucial to disseminating food and beverage experiences to visitors.
Resources mentioned in this episode:
Chef Sean's TedX Talk (link coming soon)
---
Episode 3: Judith von Prockl - Going All In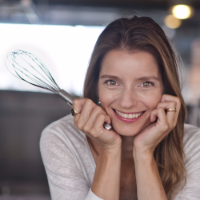 Judith von Prockl, owner and managing director of Gourmet on Tour, which was founded in the year 2000, making it the very first culinary tour company. Over the past nearly 20 years, Judith has perfected the food tour experience, with different types of food tours, with some focusing on gourmet, others focuses on wine, and still others focusing on local food cultures. Judith shares what it was like to be a pioneer in the food travel industry and  what she's learned, including how the customer becomes the hero; the importance of word-of-mouth and referrals; the importance of Instagrammable moments; and why entrepreneurs should go all in right from the start. 
In this episode you'll learn:
How the customer becomes the hero

What it was like to be a pioneer in the food travel industry

The importance of word-of-mouth and referrals

The importance of Instagrammable moments

Why entrepreneurs should go all in right from the start
---
---
Episode 2: Irene and Mei Li - Believe in Your Dream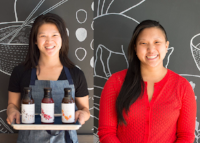 Sibling co-founders of the Mei Mei empire in Boston, Massachusetts (USA) discuss the trials and tribulations of turning a foodservice dream into a brick and mortar reality. They've expanded from a food truck popular with residents and visitors alike to add a full-service restaurant., as well as bottled sauces  They share what it's like to work with family, and talk about what they did to help make their small business a true success, including inspiration from our Episode 1 speaker Air Weinzweig below. An inspirational cookbook is in the works. Hear what these two women have to say and and then you'll want to book your trip to Boston for the scallion pancake sandwiches!
In this episode you'll learn:
How 3 siblings were able to balance work and personalities in a family-owned business
How 3 siblings started a food truck with a lot of passion about and interest in food, but no foodservice experience
Why introducing an open books policy with company employees contributed to greater employee commitment to the business
How you don't need to be a professional writer to write a cookbook
The importance of visioning
---
---
Episode 1: Ari Weinzweig - Sweat the Details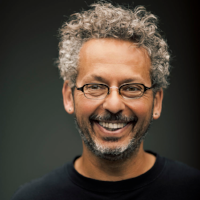 Ari Weinzweig is Co-Founder of the Zingerman's family of companies, which include a delicatessen, bakery, catering operation, family restaurant, Korean restaurant, creamery, coffee store, candy store and a professional hospitality training arm. Ari had no idea the company would grow so large when the original deli opened back in 1982. Now, 35 years later, the Zingerman's companies are a true visitor destination in Central Michigan (USA). Ari talks about how everything got started, his vision, and why sweating the details is important. Check out Ari's books mentioned in the podcast.
In this episode you'll learn:
How to "just do it" and follow your dream
Why it takes patience when growing a business
Why it's important to listen to your customers
What visioning is and why it's key to your business success
---
Appear on an Episode
Do you work in food, beverage, travel, hospitality or media? Do you have a remarkable story to share? Perhaps you have overcome a serious work or personal challenge or you achieved something tremendous? If so, we want to hear from you. Send us details about yourself, your professional background and your life challenge or major accomplishment, and a statement as to why you think your story would inspire professionals in food and beverage tourism. 
The only requirements are that you have a fast broadband connection, a quality microphone, and a quiet place for the interview. The show is a podcast, so video is not required. You should plan to spend 15-30 minutes before the interview to prepare your remarks. The interview itself will last less than 60 minutes. We edit out superfluous information, erroneous comments and general chit-chat before publishing. Our goal duration for a final episode is 40 minutes.