Looking for a Scholarship?
If you're looking for a scholarship, please scroll to the bottom of this page. Scholarship applications are accepted on a rolling basis (i.e. applications never close).
Are You Passionate About Worthy Causes?
As the world's leading authority on food and beverage tourism, we're always looking for ways to innovate in our industry. Our business classification means that we are authorized by the US tax authority (Internal Revenue Service) to accept donations from individuals and businesses, and provide you with an official receipt on letterhead that you may be able to claim as a credit against your individual or business taxes.
We're registered as an educational institution and are most passionate about offering education and supporting tools to those in need.  Currently all donations go into a scholarship fund, which allows students and people in need to apply to attend our educational events or classes at no cost to them.
Do you have a specific project or cause in mind? For larger donations, we are happy to earmark all or part of your donation to a specific project that you are passionate about. 
How It Works
Donations less than US$500 can be made easily and quickly online right now.
For larger donations, please write us at help(at)worldfoodtravel(dot)org and tell us how much you would like to donate, what name (individual or company) we should put on our official receipt to you, as well as the registered address of the individual or company. We'll then contact you to finalize your donation.
We will send you an official receipt on our letterhead that you can submit to your tax authorities.
We are registered in the US State of Oregon as a 501-c-3 nonprofit and charitable organization. This designation allows us to legally accept donations and issue official donation receipts which you can submit for possible tax credit.
Apply for a Scholarship
Students, unemployed and others in need may apply for a scholarship as follows. All currently available scholarship opportunities are listed in the form below. If you have any trouble with the form, please let us know here.
Good to Know
We do not offer financial or legal advice. Please consult with the appropriate professionals in your area to find out how your donation might be tax deductible.
If your donation cannot be considered a "donation" by your area tax authorities (usually if you are in a different tax area), then label it instead as a "business" or "marketing" expense. You can publicize your donation, which therefore qualifies it as a marketing expense.
A Scholarship Recipient's Own Words
"This was a fantastic opportunity to hear from leaders in the Food Travel Industry. Thanks to the scholarship I was able to attend, meet and network with Ambassadors, Entrepreneurs and Consultants to share ideas and experiences".
- Daniela Nardi, 2018 FoodTreX London Scholarship Recipient
- Student of Hospitality Management (BA) and Personal Chef
- University of Greenwich - London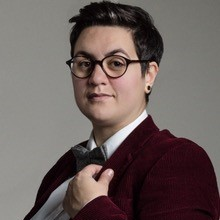 Where the Money Goes
Currently all donations go into a scholarship fund, which allows students and people in need to apply to attend our educational events or classes at no cost to them.
In our current tax year, we have committed a total of US$5,000 for student scholarships for our educational programs.
Show Me Proof
You may request a copy of any of the following items:
We can provide you with a copy of our official determination letter from the US Internal Revenue Service issued November 11, 2005, showing our 501-c-3 legal status as a registered charitable organization.
We can show you where to find that we are legally registered as a charitable organization with the US State of Oregon.
We welcomed 47 scholarship winners in 2018.
Submit your request for proof by email here. Be sure to include your name, email address and a link to your profile on LinkedIn, Medium.com or Facebook, so we know who you are.