Overview

We at the Association are often heard saying, "It's a memory and not a meal," in reference to foodservice experiences. Unfortunately, that concept is all too often either not understood or forgotten when serving food and beverages to visitors. 
What kind of food or beverage experience does it take to lure foodies and non-foodies alike to your destination or business? A single focus on fine dining or photography featuring the ubiquitous food towers may not do the trick. Similarly, inconsistent service, food quality concerns, and food safety issues can also harm the reputation of your business or destination and adversely affect your ability to attract new visitors and customers.
We help destinations understand how visitors discover and experience their food and beverage products and experiences, and then use that information as a foundation for sustainable decision-making in product development and strategy.  
Features
Features of the Business Assessments include:
| | |
| --- | --- |
| Over 100 data points of analysis performed on-site in your business(es) | Photo and video evidence as required to substantiate claims |
| | Final PDF report with action items, recommendations and next steps |
Benefits
The Business Assessments provide the following benefits:
| | |
| --- | --- |
| Understand how to best position your business(es) to lure food travelers | Understand how visitors perceive your business, before they depart, while they are there, and discover what they say after they return home |
| Discover your business strengths and weaknesses regarding food and beverage experiences | Learn where your attention is needed in product development, marketing and stakeholder engagement |
| Avoid bias with our impartial third-party expert analysis | Evidence-based recommendations, not theoretical academic discourse |
Get a Taste
Want to experience a (very) short version of an assessment? Read our Tales of the Road: Kauai report here. This is a very informal, short assessment performed as tourists on the island of Kauai in the US State of Hawaii. Your assessment will be much, much longer and more in-depth, and include photo and video evidence, as well as our impartial analysis.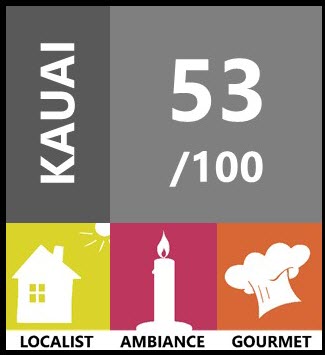 Want More Information?
Curious about this product and want to learn more? Send us a message here or initiate a chat in the lower corner of your screen.
Get Our News
Sign up below for our newsletter.