For as long as I can remember, people have identified specific foods and drinks with certain places, pretty much everywhere around the world. When you say Belgium, you think of chocolate and beer; Italy, pasta and Parmesan cheese; Sweden, chocolate and vodka; and San Francisco, sourdough bread and wine. In Portland, we're known for our beer, wine and coffee, but also our food cart culture which, sadly, is disappearing in the name of "progress". I'll get to that shortly.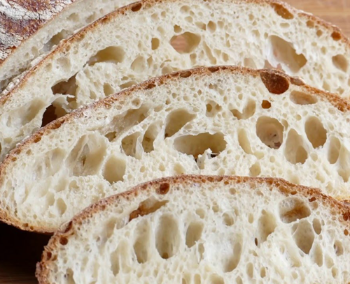 San Francisco's famed sourdough bread
Food manufacturing takes place in most countries, and we get to associate specific brands with specific places. Think Marmite and the UK, or Fonterra with New Zealand. Along the streets of the world's capitals, it is easy to find reminders of familiar prepared food and beverage brands. Some streets are laden with foodservice establishments like Starbucks, KFC and Costa Coffee. Other streets are rife with advertisements for popular food and beverage brands such as Nestle's Milo, Magnum ice cream bars or the ubiquitous Coca-Cola. Many of us grew up with these brands and even love them.
While these food and beverage brands are part of our lives, we still hold a dear place in our hearts for the home-cooked meals served by our families. An Indian boy might cherish memories of the first biryani served in his home, while an American girl might remember most a hot dog with all the fixings, perhaps served at a summer holiday event. Regardless of the food, the family or the culture, we all have food and beverage memories that we cherish and revere as inherent and even authentic representations of our own food cultures. And every time we see a rendition of mom's famous meatloaf or grandma's pad thai for sale in the ready-made meal counters of our neighborhood grocery stores or fast-food chains, we cannot help but feel that a part of our history, however, small, has been marginalized and is on its way to the Graveyard of Culture. Our lives have become so fast, and our responsibilities so great, that it's hard to argue with a delicious hot meal that can be purchased and in minutes, brought home and served to a hungry family.
Just as we're losing our food cultures, bit by bit all around the world, part of our local food culture in Portland, Oregon (USA) is disappearing as well. While food carts (known as food trucks everywhere else in the world), have been around in Portland since the 1990s, they really took off here in the late 2000's. At one point, Portland allegedly was home to almost 700 different food carts strewn throughout the city. While hamburgers, Mexican and Thai options were abundant, every cuisine imaginable was available including Egyptian, Czech, Scottish and Georgian. The famous blocks of 10th and Alder Streets in downtown Portland serve as the epicenter of Portland's food cart culture.
A group of carts is called a "pod" and cart pods were at one time found all around Portland. By all accounts, no visit to Portland would be complete without a stop for a meal at one or more of our famous food carts. Some options like Nong's Khao Man Gai have even achieved iconic status and are sought-after destinations themselves by visitors to this upper left corner of America. Just google pictures of "Portland food" and you'll see the (in)famous Voodoo Donuts and Stumptown Coffee, as well as thousands upon thousands of pictures and videos of Portland's food cart culture. It's safe to say that Portland's food carts collectively have become one of the city's predominant features of its food culture, and something that visitors seek out with great anticipation.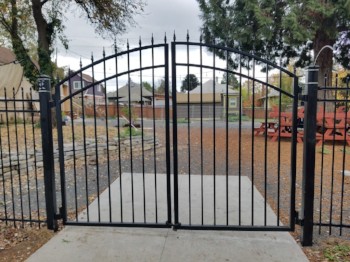 Within 10 years, Portland's food carts became a major attraction in the City of Portland. Our food carts sometimes showcase the quirkiness of the city as portrayed in the Portlandia television series. An example of our quirkiness can be found at the Grilled Cheese Grill, which operates one of its locations out of a double decker London bus. Other carts served as stepping stones to brick and mortar establishments, such as the PDX Sliders operation. Still other carts served as culinary proving grounds, like for Chef Rick Gencarelli, who founded a food cart in 2010 and later went on to open the highly acclaimed Lardo and Grassa local restaurants.
All that remains of the food cart pod on North Mississippi Street in Portland (left).
Then in 2016, something serious began to happen. The cart pods were being forced to shut down. Reasons varied, but the one floated most often is that the land was being sold to a developer to erect a new apartment building. The spaces that housed the cart pods had been mostly empty parking lots.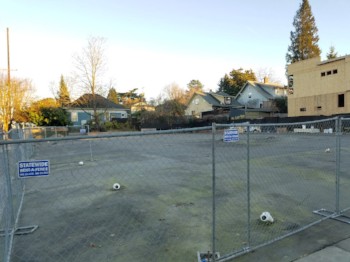 SE 28th & Belmont Streets, until recently, home to Portland's best food cart pod
Before Portland became the trendy destination that it is today, owners of parking lots could get income from renting out small spaces to these carts, which in turn gave rise to pods of food carts all around the city. Every quadrant of the city had at least two major food cart pods. Portland became like a Disneyland for foodies, and good food could be found literally on almost every corner. Recent major pod closures include the lot on North Mississippi Street and another on Southeast Belmont Street (see pictures of all that remains, note construction work on the right side of the lower image). The Belmont pod was probably the nicest in the city, with a covered seating area, plants and heating lamps. Now it's gone. Some carts find new homes, while other simply close. Bit by pit, the food carts, and really our food cultures, are eroding before our eyes.
Now the largest food cart pod of all, at 10th and Alder Streets in downtown Portland is threatened with closure, as once again, developers want the space. Instead of apartments, however, developers want to erect another office building. It is argued that a 20 to 30 story office building would make a much greater contribution to the city's economy than do the 40 or so food carts it would displace.
Progress is inevitable. Rather than destroying the epicenter of Portland's food culture, what if there were a way to honor and preserve Portland's food culture, while still allowing for progress in the form of new buildings? Some of the new smaller apartment buildings have mixed use space on the ground floor. However, there is rarely space for more than a couple of eateries, and the architecture/design usually leaves something to be desired. Think Ikea meets excellent local food, and at much higher rents, which raises the prices of the food served, and gives fuel to quiet scoffing that our cuisine is becoming gentrified and even unattainable by the everyday person. If you beg to differ, would you pay US$15 for a sandwich from a food cart served in aluminum foil in a paper bag with plastic silverware and no place to sit and eat? As much as I love our food carts, I'd rather eat in a restaurant with table service for the same price. That said, there are plenty of cheaper options.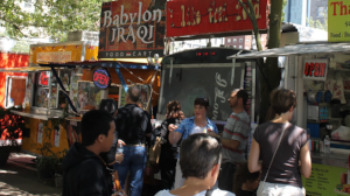 The vibrant food cart scene at the 10th and Alder Streets food cart pod in downtown Portland, Oregon, USA.
If progress is indeed inevitable, what could be a win-win-win solution for all stakeholders, especially for the hallowed blocks around 10th and Alder Streets? Architects and city planners could design a building with a ground floor with outward facing windows around the periphery that accommodate the next iteration of "food carts". It would certainly be a non-traditional office building, but it would preserve an important part of our culinary culture. It's a win for city developers, who get their new building. It's a win for customers & travelers because their favorite carts aren't going away. And it's a win for the businesses, because they'll still have space to conduct business. Sequestering the carts in a food trough in the new building's basement would not have anywhere near the same effect. In fact, such an easier solution would mimic the food courts of malls across the United States. The food carts in general, and especially the pod at 10th and Alder Streets, motivate travelers to come to Portland and enjoy our lifestyle, spending quite a bit of money in the process. Eateries in a building basement are no motivation for travelers to visit any city, and certainly nothing to be proud of. Portland has long prided itself on its creativity. It needs a creative solution to new urban construction.
This is just what is happening in our home base, Portland. Have you noticed the disintegration of your own local food culture? Every time a new strip mall opens with prominent national chains at the ready, it's one more shot across the bow of the locally owned food and beverage businesses. There is room for both locally-owned and multinational businesses to thrive, but it's really the local businesses that need our support.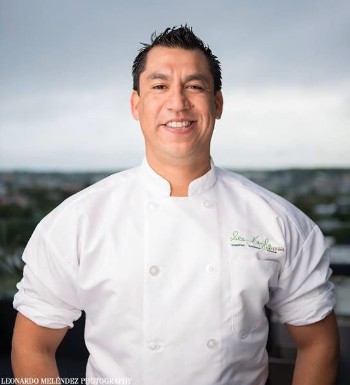 What makes up your local food culture? Maybe it's an old grain mill or brewery in a stone building that has seen better times? It could be a restaurant in an old castle or a cooking school in an old country home. Whatever makes up your area's food and beverage products and experiences, and the stories you tell about them, we need to recognize and support our local food cultures, all around the world.
Recently I was in Belize, where the big multinationals still largely had not arrived. The locals are rightfully concerned about what will happen when they do. Thanks to ambassadors like Chef Sean Kuylen (pictured left), steps are being taken right now to preserve and promote the Belizean food culture. Without such efforts, unique foods and beverage products and experiences will cease to be a major reason to travel that they are today.