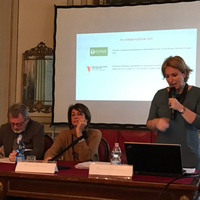 The world's first report on food tourism *in* Italy has just been announced. The new report was presented by Roberta Garibaldi (University of Bergamo, World Food Travel Association) to the public during an event in Milan on January 23. During the event she presented main findings and future trends of this visitor segment from Italy. The report was launched at the beginning of "The Year of Italian Food."
Thirty percent (30%) of Italian travelers can be defined as food tourists, or tourists for whom food or drink activities were a prime motivator in choosing a destination. Gastronomy has thus become a key element on holiday, influencing (outbound) Italian traveler destination choices.
This fact demonstrates one of the key findings of "First Report on Food Tourism in Italy," research that outlines trends in this rapidly growing tourism segment both in Italy and the world. The research combines quantitative and qualitative analysis and contains detailed information on Italian travelers attitudes towards gastronomy, an overview of related offerings through regions, opinions from international experts and best practices of food tourism from all over the world.
Roberta Garibaldi, the author of the report, is a researcher, consultant and professor of food tourism. She also serves on the Board of Advisors for the World Food Travel Association. She also produced the Italy supplement for the Association's 2016 Food Travel Monitor, which researched *outbound* food travelers from Italy.
The report includes contributions of operators TheFork and Seminario Veronelli, as well as international experts, who included, among others, Anne-Mette Hjalager (University of Southern Denmark, editor in chief Journal of Gastronomy and Tourism), Carlos Fernandes (Instituto Politecnico de Viana do Castelo, Portogallo), Matthew J. Stone (University of California, Chico, USA) and Erik Wolf (World Food Travel Association).
The report was sponsored by the Italian Touring Club, Federculture, and Qualivita Foundation.
---