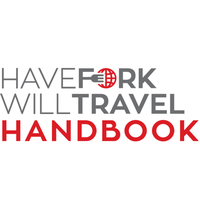 For prospective members (and members renewing within 90 days) of the World Food Travel Association, we've got a great offer for you! From now until July 31, 2018, if you join as a new member or renew as an existing member (if your membership expires in 90 days or less), you'll be entered into a chance to win one of 5 copies of our Association's Have Fork Will Travel handbook. This book is considered to be the most comprehensive industry handbook about food and beverage tourism ever published, and is written for entrepreneurs, business owners and managers, destination marketers, and economic development professionals. It can also be used in the classroom. It's 542 pages and 50 chapters of tremendously valuable food and beverage tourism industry knowledge written by over 70 authors from 24 countries. No destination marketer, government official in economic development or tourism, or business owner or manager should be without one. Entering is literally this simple:
Terms & Conditions
Offer valid only for new members of the World Food Travel Association, or current members who renew within 90 days of your expiration date.

Offer valid between June 19, 2018 (23:59 GMT) and July 31, 2018 (23:59 GMT). All payments must be processed by this deadline.

Offer valid for printed book only, not the digital version.

Association pays for the book and airmail postage to an address of your choice anywhere in the world. Winner pays any customs duties that may be imposed.

Prize value US$65 for book and up to US$24 for airmail (approx. US$89). No payable cash value.

Void wherever prohibited.
Questions? Check FAQ or Open a Support Ticket
---