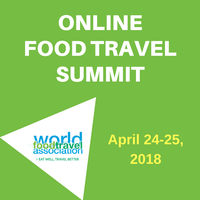 Let's Get Digital — Maximizing Your Message in the Millennial Age
This is the session 5 webinar, which takes place place during the Online Food Travel Summit.
---


DATE & TIME
Wednesday, April 25, 2018 at 09:00-9:50 PST (17:00-17:50 GMT)

SPEAKERS


Kuvy Ax, Owner, ROOT PR, Boulder, Colorado, USA; and

Alexandra Palmerton, Owner, The 5th Sense, Denver, Colorado, USA
DESCRIPTION
With millennials officially comprising the largest (and still growing) sector of food and beverage tourism, now it's more important than ever to speak their language. So if we know WHO we need to be talking to, all that we need to do now is to discover the HOW, WHEN, WHAT and WHERE, right? It sounds complicated, but it doesn't have to be. In this session, we'll dive into how to refine your messaging and target it to this emerging, growing group of potential customers. We'll cover media relations, social media, how to refine your online presence and much, much more. Let's get digital. [continued]
WHAT YOU'LL LEARN
How your very own customers (or visitors) have changed in the past few years

How marketing messages have needed to change for a changing market

How to refine your online messaging to appeal to a millennial generation

What tools are best for communicating with a millennial generation (hint: Facebook is on its way out!)
SESSION BEST FOR
Marketing managers and strategists

Branding, PR and advertising professionals

Destination marketers and governments

Small business owners and entrepreneurs

Product developers
---
IMPORTANT EVENT FACTS
This Summit includes 9 total sessions that cover best practices, how to's, and case studies, specifically for food and beverage tourism professionals.

All sessions are delivered in English.

You register and attend online like a webinar. No need to travel anywhere. Registrations close April 23. Space is limited for each session.
All registered delegates get 1-year access to recordings of the sessions you've purchased. So even if your location means that the session times are not convenient for you, you'll still get access to the content (although you'll miss the Q&A by not attending live)
This Summit is the world's only 100% online food and beverage tourism conference for trade professionals. It's our second major online conference (our first one took place in 2015).
Pricing is very affordable, only US$12 per session for members (US$15 for non-members). Choose to pay per session or buy an All Access Pass for greatest savings. Non-members can bundle a new membership and All Access Pass for incredible savings!

Sponsorships are available for only US$500 per session (limit one sponsor/session) and include session access for your co-workers, inclusion of your company name, logo and URL during the session, on the event page of the website and in our social media promotions. Let us know ASAP at help@worldfoodtravel.org to start getting maximum exposure.

Destination marketing organizations that are able to help with marketing can earn sponsorship status (no cash). Get in touch to learn more.
Also be sure to save the date for our Food Tourism Innovation Summit in London on Sunday, November 4, the day before World Travel Market begins.

---