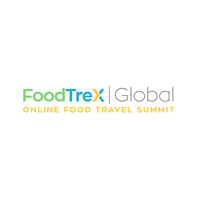 The FoodTreX Global | Online Food Travel Summit is back and taking place this year on April 17-18. So far, 9 fantastic sessions have been scheduled over two days. One day is oriented towards businesses and entrepreneurs, while the second day is oriented more towards destination marketers and governments. Everyone (trade, media, academic, consumer, etc.) is welcome to attend either day or both days. FoodTreX Global is produced by the World Food Travel Association, the world's leading authority on, and oldest organization devoted to, food and beverage tourism.
So far confirmed sessions and speakers include:
Day 1, April 17, 2019, Entrepreneurship & Business Focused
What Matters Today in Food Tourism, Erik Wolf, World Food Travel Association (Portland | London | Barcelona)
What is the Undeniable Value of Social Responsibility in Food Tourism? Chantal Cooke, Passion for the Planet (United Kingdom)
How to Set the Tone for Your Visitors' Experience, Concetta D'Emma, Unconventional Breakfasts (Italy)
Why Meeting Your Food-Loving Customers Expectations Is Your Next Best Marketing Tool, Eskerne Falcon, Discover San Sebastian (Spain)
Day 2, April 18, 2019, Destination Marketing Focused
What is Food Sport & What Can it Offer Destinations? Mike McCloud, MMA Creative (USA)
How a Sustainable Food/ Beverage Tourism Strategy Can Work for Destinations, World Food Travel Association (Portland | London | Barcelona)
What Destinations Should Be Doing Differently With Social Media, Shonette Laffy, Destination Bristol (United Kingdom)
How Rural Areas Can Attract More Visitors, Olivia Duff, Headfort Arms Hotel & Boyne Valley (Ireland)
How To Differentiate Your Destination With Its Immigrant Culinary Cultures, Donna Keren, NYC & Company (USA)
Pricing is only US$59 for one day or US$99 for both days. Members and Certified Ambassadors of the World Food Travel Association check in your Members Area once logged in for your discount codes.
It is also worth mentioning that the second day of FoodTreX Global overlaps with World Food Travel Day, a virtual event designed to draw attention to preserving and promoting local culinary cultures around the planet, and an important area in need of attention, according to findings from industry experts interviewed in the World Food Travel Association's 2019 State of the Food Travel Industry Report. Learn about World Food Travel Day and what you can do go be involved.
---