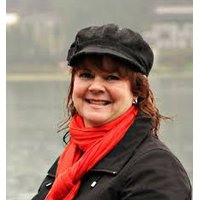 From Dream to Profitable Business:
How to Make Your Food Tourism Idea Work
This webinar is session 7 and part of the Online Food Travel Summit.
---
LEARN MORE & REGISTER

DATE & TIME
Wednesday, April 25, 2018 at 11:00-11:50 PDT (19:00-19:50 GMT)

SPEAKERS
Midgi Moore, Owner, Juneau Food Tours
Juneau, Alaska, USA
DESCRIPTION
Creating a food-/drink-/hospitality-related business isn't all about the food or drink. It's about being able to execute well on a plan. That includes building relationships, using the right tools, and knowing when to say no. Midgi Moore, CCTP, will discuss how she grew her simple blog into a successful food tour operation. In this session, she will discuss the importance of developing and executing an action plan, including tools and tips on negotiations, developing a business plan, growing smartly, and ensuring sustainability. We'll also look at examples of other smaller businesses that have succeeded in a similar capacity. If you are an aspiring entrepreneur looking to grow your passion into a productive business in food and beverage tourism, then this session is for you...
WHAT YOU'LL LEARN
How to take an idea from concept into action

How to create an action plan (including the components)

The importance of a business plan, including a lean canvas

Steps to take to increase your chances of profitability
SESSION BEST FOR
Small business owners and entrepreneurs

Product developers

Trainers and educators

Bloggers seeking to do more

People considering a career change

Students forging their career path
---
IMPORTANT EVENT FACTS
This Summit includes 9 total sessions that cover best practices, how to's, and case studies, specifically for food and beverage tourism professionals.

All sessions are delivered in English.

You register and attend online like a webinar. No need to travel anywhere. Registrations close April 23. Space is limited for each session.
All registered delegates get 1-year access to recordings of the sessions you've purchased. Even if your location or schedule mean that the session times are inconvenient for you, you'll still get access to the content (although you'll miss the Q&A by not attending live)
This Summit is the world's only 100% online food and beverage tourism conference for trade professionals. It's our second major online conference (our first one took place in 2015).
Pricing is very affordable, only US$12 per session for members (US$15 for non-members). Choose to pay per session or buy an All Access Pass for greatest savings. Non-members can bundle a new membership and All Access Pass for incredible savings!

Sponsorships are available for only US$500 per session (limit one sponsor/session) and include session access for your co-workers, inclusion of your company name, logo and URL during the session, on the event page of the website and in our social media promotions. Let us know ASAP at help@worldfoodtravel.org to start getting maximum exposure.

Destination marketing organizations that are able to help with marketing can earn sponsorship status (no cash). Get in touch to learn more.
Also be sure to save the date for our Food Tourism Innovation Summit in London on Sunday, November 4, the day before World Travel Market begins.

---