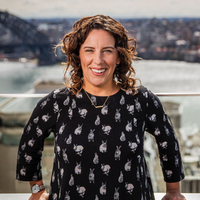 We spoke with one of our newer Ambassadors, Holly Galbraith, who represents the World Food Travel Association in Australia.
Holly grew up in Australia, where she currently lives. She has worked in the tourism and hospitality industry for all her career. Seven years ago, she started her own marketing consultancy specializing in social media marketing for events and food & tourism businesses. Her interest in social media began in 2009 when she observed the rise of businesses participating in social media (back then particularly FourSquare, Facebook and TripAdvisor). She could see the tourism industry was struggling to understand its use but she also saw the opportunities. Her business runs social media workshops and coaching, tourism marketing strategy development (with a social media and digital focus), social media campaign management plus she speaks at conferences and events about social media. Her clients have included destinations such at Austria National Tourist Office (Australia) and Upper Hunter Tourism; accommodation suppliers such as Ballina Lakeside Holiday Park and Best Western Hotels & Resort; food events such as Sample Food Festival and Festival of Nonna; and food clients, namely Australian Macadamias and Hawkesbury Harvest. She also runs a few other projects including Women in Tourism Leadership events, Tourism Tweetup events and the podcast called Tourism Upgrade. She speaks on the Sydney radio (ABC 702) every second Saturday morning about what is fresh on the farm gate trail and where people can visit farms and farmers markets for fresh produce. Everything she does is about sharing knowledge as well as connecting people and networking. She looks at every event she produces as a networking and learning event.
Holly's interest in food/beverage tourism began very early in life. She is a farmer's daughter and grew up with an abundance of apples, plums, pears and peaches as well as wild blackberries. From a young age, she was assisting in the family business and selling fruit from the farm shed, long before it was trendy. Her older sister always loved food and influenced conversations around this subject. Both her sister and her mother are good cooks, especially when it comes to desserts, so it's safe to say that Holly grew up under the influence of food. One of her early jobs while still at school was as a waitress at a local cafe. The mangers at the time were bakers who shared their pastry recipe which she used to make apple pies that she sold out of the farm shed for extra cash. She still uses that same recipe to this day. She went on to work full time in a couple of great restaurants before deciding to go to university and study Business (in tourism). Finishing that degree is when her career began, but really the experience prior to it - growing up on a farm, the many and varied jobs she held, as well as her exposure to the value of travel, dictated her path in food, hospitality, regional Australia, tourism and marketing.
Her top food destinations include Rome, Italy. Holly shares, "a lot of people don't rate Rome for great food but I strongly disagree. The food tour of Testaccio is still one of my travelling highlights which set me up for the rest of my time in Rome. The small providores you meet and the foodie tips shared were priceless. OMG the sour cherry ricotta cheesecake in the Jewish quarter of Rome is one I will return for again and again." She also favors the Byron region of Australia. She reflects, "I may be biased as I lived there for many years however as a foodie destination Byron is world class. The Thursday morning farmers' markets where you get to meet the local growers; the quality of the seafood including Ballina Oysters from the co-op; the array of restaurants which focus on what's in season now; plus the small roadside huts with an honest box system selling things like avocados, macadamias, pecans, passionfruit; all within pristine natural beauty of ocean, green hills and rainforest. The region is proud of where the food comes from and how it is grown and most importantly it's food experiences are very accessible." It makes us want to visit. And last, Holly has great food memories of Bangkok, Thailand. Holly laughed, "for me going to Bangkok is 'dangerous' as I want to eat and try everything - and there is so much to try. I love Bangkok for its easy of eating, don't need no fancy plates or restaurants, a plastic stool on the street will do just fine. I also love the attention to detail both with the extra sauces and spices you can add to your meal and the way fruit is cut and prepared i.e a heart shaped piece of watermelon. And finally I love Bangkok (really Thailand in general) for the way food connects people and how important it is to the culture - that I understand. The attention to detail and the genuine love for and care of food comes across."
Holly joined the World Food Travel Association to learn from the information available to members and take advantage of the Association's offers. She also sought to raise her profile in the food tourism space locally and globally, and to connect with others who share a similar passion for food tourism.
As for what's next, Holly is in the planning stages of a big food tourism industry event for 2018, namely Australia's first food tourism conference. It will be held in Sydney on May 21, 2018. Everyone is invited.
Holly's company, Destination Food, is about bringing together key people working in food tourism to share ideas, stories, network and learn. It is aimed at destinations as well as food tourism operators, hotels, marketers, food PR's and content creators.
---