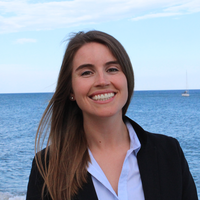 The World Food Travel Association is pleased to announce our newest Certified Ambassador, residing in Catalonia, Jane Connelly. Jane is American and has been living in Spain for 7 years. We got together with Jane to get to know her better.
Jane is a Seattle native whose hungry stomach and passion for a career in food tourism led her to Spain. Although she is relatively new to the food tourism industry. She is not short of excitement to kick off her career as an active member in the WFTA community. "My interest in food tourism started at a very young age, but it really came to light when I spent time living in Mexico and afterwards, in southern Spain," shared Jane. Her time abroad provided her with the insight of the importance and value that food and beverage can have on a traveler's overall understanding of a culture and experience there.
Jane's favorite food/beverage destinations are Spain, Thailand and the Pacific Northwest of the United States/southwestern Canada. She has enjoyed meals in every region in Spain (and it's understandably impossible for her to choose a favorite among them). "Each region is rich in exquisite local products, tasteful dishes, and unique food cultures." Jane has fond memories of Chang Mai, Thailand, its popular dish "Khao Soi" and the unforgettable night market packed with mouth watering street food. Finally, Jane cannot ignore her native Pacific Northwest region of the United States. She reminisces, "Here you find products such as wild salmon, Dungeness crab, and other fresh seafood. Also available are game meats, wild mushrooms and an assortment of delicate and delicious berries. The Pacific Northwest region is full of foodie destinations that will entice you, from enjoying fresh oysters, to sushi, or a nice cold craft beer." Jane also shared an honorable mention: Querétaro, Mexico. "You just have to go!" she says. We can't wait to taste of ourselves.
Jane is strong believer of food and travel as a mechanism for sustainable tourism and economic growth. Whether it is promoting local foodways, products or simply educating fellow travelers. Food, travel and sustainability go hand in hand. "That's why I chose to become part of the World Food Travel Association family," she recounts.
"This is only the beginning; you will be seeing more of me in the future!" Welcome, Jane!
---