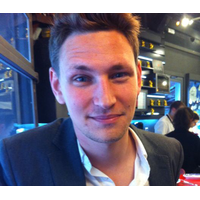 Managing Food Traveler Expectations in "Overtouristed" Destinations
This is the session 3 webinar, which takes place place during the Online Food Travel Summit.
---


DATE & TIME
Tuesday, April 24, 2018 at 11-11:50 PST (19:00-19:50 GMT)

SPEAKER
Danny Adler, Owner, Adler & Marlow Tour Operator, Barcelona, Spain
DESCRIPTION
The issue of "Overtourism" officially came to light in 2013 with the publication of "Overbooked: The Exploding Business of Travel and Tourism" by Elizabeth Becker. Managing a luxury travel company in Barcelona, Danny has been in a unique position to witness first-hand the deluge of visitors to one of the world's most "overtouristed" destinations that Becker discusses in her book. For the past few years, Danny has been struggling to offer his clients authentic food and wine experiences, in a destination where the mere demand and traffic of tourists is a threat to the very same authenticity. He finds himself constantly needing to replace once coveted neighborhood wine bars and restaurant gems in itineraries because they have regrettably become overrun with individual tourists (FITs) and tour groups.
The problem that food and drink lovers face is severe for several reasons. First, we all desire high quality in an authentic environment. Unfortunately, both quality and environment are influenced and significantly altered, once there is a massive shift in clientele from locals to tourists. We then see the overall loss of foodie gems. ... [continued]
WHAT YOU'LL LEARN
Why destinations become "overtouristed"

How to adjust tour itineraries when areas are too popular

What tourism offices can do to better manage "overtouristed" areas

How less popular destinations can maneuver this situation to their advantage

SESSION BEST FOR
Marketing managers and strategists

Branding, PR and advertising professionals

Destination marketers and governments

Small business owners and entrepreneurs

Product developers

Trainers and educators
---
IMPORTANT EVENT FACTS
This Summit includes 9 total sessions that cover best practices, how to's, and case studies, specifically for food and beverage tourism professionals.

All sessions are delivered in English.

You register and attend online like a webinar. No need to travel anywhere. Registrations close April 23. Space is limited for each session.
All registered delegates get 1-year access to recordings of the sessions you've purchased. So even if your location means that the session times are not convenient for you, you'll still get access to the content (although you'll miss the Q&A by not attending live)
This Summit is the world's only 100% online food and beverage tourism conference for trade professionals. It's our second major online conference (our first one took place in 2015).
Pricing is very affordable, only US$12 per session for members (US$15 for non-members). Choose to pay per session or buy an All Access Pass for greatest savings. Non-members can bundle a new membership and All Access Pass for incredible savings!

Sponsorships are available for only US$500 per session (limit one sponsor/session) and include session access for your co-workers, inclusion of your company name, logo and URL during the session, on the event page of the website and in our social media promotions. Let us know ASAP at help@worldfoodtravel.org to start getting maximum exposure.

Destination marketing organizations that are able to help with marketing can earn sponsorship status (no cash). Get in touch to learn more.
Also be sure to save the date for our Food Tourism Innovation Summit in London on Sunday, November 4, the day before World Travel Market begins.

---