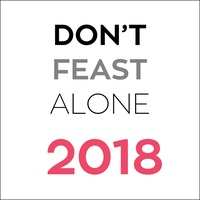 We have always done things a little differently here at the World Food Travel Association, so instead of giving offers for Black Friday or Cyber Monday, we have taken a different approach that is true to our mission.

Today we launched our Don't Feast Alone scholarship fundraising campaign to make more scholarships of our Association's food tourism education products available to people in need, i.e. students and recent graduates, the unemployed, the homeless, those with a disability of any kind, and those with any other demonstrable need. In 2018, we granted 48 scholarships for our Association's educational products. We hope to break that record by a huge number in 2019, and we need your help to do that.

When you donate at various levels, you can get a wide variety of goodies that may include:
Our organization is classified as a 501 (c) 3 charitable organization in the United States. Therefore your donation is either tax deductible as a charitable donation (US individuals and corporations) or as a marketing expense (other countries). When your donation is complete, you will receive an official donation receipt for your records.

LEARN MORE ABOUT THE CAMPAIGN & DONATE NOW

Our goal this year is to raise US$5000, which can pay for enrollment for those in need for 50 Masterclasses, 8 registrations for our FoodTreX London Food Travel Innovation Summit, or as many as 100 registrations to one of our Regional Food Travel Summits.

No amount is too small, and if you're able to give more, you'll get more in return. It's our way of saying thanks. If you were thinking about joining as a member, or taking advantage of any of our other products, now is the time to do so for the greatest value.

Help kickstart someone's career and bring the gift of quality food tourism education and training to more people who truly need it. Thank you.

Erik Wolf
Executive Director

PS Can we count on you? If every person receiving this message gave only US$20, we would meet our goal in under 8 hours!

LEARN MORE ABOUT THE CAMPAIGN & DONATE NOW

PPS Are you a candidate for one of our scholarships? Learn more and apply now.

And thank you again for reaching deep into your pockets this holiday season!
---