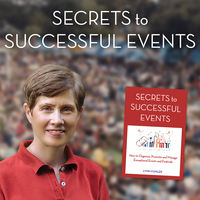 Just in time for summer, author Lynn Fuhler has released two essential how-to guides for festivals and event planners. While each guide showcases how to organize, promote and manage events, they specifically address events targeting food tourists - people who are passionate about food, wine and beer and are willing to travel great distances to enjoy the experience.
In the first book, Fuhler, the former tourism director of Clearwater Beach, Fla., has incorporated ways food tourism event organizers can work with the hospitality industry and destination marketing organizations. The ensuing results can be an official host hotel sponsorship package, added publicity, increased attendance, a more relevant audience, a boost to the local economy and more dollars raised for charity*. This manual logically walks organizers through each step in the planning process. For instance, for those unfamiliar with the quirks of online ticketing, Lynn suggests what questions planners should ask and explains the subtle nuances of payment processing. Her second handbook geared toward those with some event experience is filled with sample contracts and forms for sponsorships, talent, vendors or concessions plus examples of bids for merchandise like tee shirts.
Lynn is the former chairman of the all-volunteer Clearwater Jazz Holiday, then the largest free jazz festival in the Southeast U.S. She holds a travel and tourism degree from St. Louis University and is co-founder of Flying Compass, a marketing and creative design firm serving the hospitality industry. Her books, Secrets to Successful Events: How to Organize, Promote and Manage Exceptional Events and Festivals and Secrets to Successful Events Resource Guide: 42+ Easy-to-Use Forms and Tools to Save You Time and Money are available on Amazon and through major booksellers.

*The food and beverage industry plays a major role in events with more than nine out of 10 restaurants actively involved in charitable activities. Collectively one million U.S. restaurants are estimated to reach up to $3 billion each year in charitable contributions according to a Gallup poll released in August 2016.
---