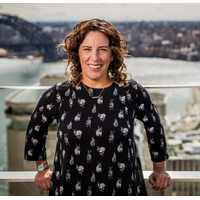 Just over two weeks ago, our Association's ambassador in Australia, Holly Galbraith (pictured), welcomed 100 professionals in Sydney for Australia's first food tourism trade conference. We hear it was a big hit! The World Food Travel Association is pleased to support regional initiatives like this and congratulates Holly and her team for a job well done!
If you'd like to see for yourself, you can check out the official photos here. You can also read here two articles about the conference; SpiceNews.com.au and the first of several stories from KarryOn.com.au.

There were many awesome videos speakers shared in their presentations, we have gathered a few of the best for you:

Lisa Ronson ~ Tourism Australia
Super Bowl Ad
Why Australia? Food and Wine with Curtis Stone

Jeanine Bribosia - The Cru
Pecora Dairy​ and Biota
Noma Mexico

Rose Wright - Regionality
Tropical Fruit World Video

Sally Cope ~ Ultimate Winery Experiences Australia
View their latest videos here

You can also follow the conference news and updates on Instagram or Twitter via the hashtag #DestFood18.
See you in May 2019 in Sydney for the next one!

---