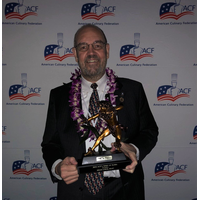 The World Food Travel Association's Chairman of the Board, Brian F Lorge, is the latest recipient of the American Culinary Federation's prestigious "Aloha Award".
In the Hawaiian culture, the Spirit of Aloha goes well beyond a simple greeting, farewell or salutation; it is a way of life. As the Hawaiian Code of Conduct dictates: "We shall practice Aloha, the heritage from our ancestors, mindful of the virtues of modesty, harmony, pleasantness, humility and patience in the manner to reflect a wholesome lifestyle that embraces the connection of land, water and people."
"Aloha" means mutual regard and affection and extends warmth in caring with no obligation in return. "Aloha" also means love, peace, sympathy, pity, kindness, mercy, and compassion. It is an ethereal word in Hawaiian culture and is not easily translated. "Aloha" is the essence of relationships in which each person is important to every other person for collective existence.
When it was announced the night of the Final Annual Awards Gala at the American Culinary Federation (ACF)'s National Convention, it was framed as a brand new and major award. ACF National President, Stafford DeCambra, CEC, CCE, CCA, AAC, is a native Hawaiian and regularly enlightens ACF members about the Aloha culture of Hawaii. As Chef DeCambra explained the Spirit of Aloha Award to the audience, that it is for "setting an example of continuous exemplary service to the organization that is way above and beyond!' Brian's award was one of only six that were handed out that night to a handful of truly deserving recipients. Brian shared his surprise, "It was a complete and total surprise. I had to ask the people I was sitting with, "wait, did he just call my name?""
This is now the second time that Brian was honored with a brand new, special award from the ACF. He won the ACF's very first "Extra Mile Award" in 2013. He was also inducted as an Honorary Fellow into the exclusive American Academy of Chefs in 2013 and also inducted as a member of Les Amis d'Escoffier Society in 2015 (there are only 100 living Escoffier members at any time). Brian was also honored with the highly prestigious Presidential Medallion #76 in 2015. And he is the previous recipient of the Michigan Chefs de Cuisine's Member of the Year Award dating back to 2004 - just before he took over as Executive Director of the Chapter.
Please join us all at the Association in congratulating Brian on this well deserved award. Brian does a lot behind the scenes for the World Food Travel Association. Please be sure to introduce yourself to him at one of our upcoming events.
---