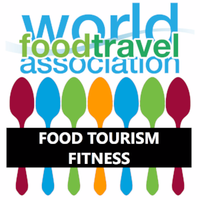 Is your business or destination Food Tourism Fit? Food tourism has been an industry for almost 20 years. Still, many professionals in the food, beverage, travel and hospitality industries don't fully understand the best way to leverage it for economic profitability.
Did you know that only 18% of travelers are interested in gourmet experiences? Simply promoting gourmet restaurants and food festivals, or offering a restaurant list featuring 100+ world cuisines, are solutions that solve only a very, very small piece of the puzzle. Did you know that there are 13 different kinds of food lover "personalities"? You want to be sure that you're casting your net wide enough to capture the attention of as many new customers or visitors as possible, don't you? The Food Tourism Fitness report helps you with that and more.
The report is a 20-page (approx.) PDF with actionable intelligence, insights and your unique call-to-action recommendations in 7 major areas (50 total data points), featuring both quantitative and qualitative analysis. Our expert assessors measure and weigh a variety of information, such as customer/ visitor product experience pre-trip, on-trip and post-trip; business stability; strategy; social perception; and overall performance. The information gained will help you do your job better and help you attract new visitors or customers, drive more business or tax revenue, and much more.
---