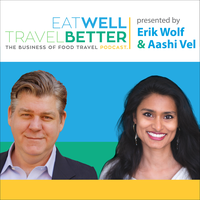 Our Eat Well, Travel Better: The Business of Food Travel podcast launched in August 2017. Just in the 12 months since launch, we've been fortunate to count over 1200 listeners (100+/month) from all over the world. Our listeners typically come from the food, beverage, travel, hospitality, and media industries.
We'd like to thank all of our interviewees for taking the time to share their fascinating stories. And we'd like to thank our listeners as well. We appreciate your interest and support. The Association would also like to extend a special thank you to the podcast's co-host Aashi Vel, without whom it would not be the great show it is today.
A big thank you to our industry for all your support!
---
New to our podcast?
LEARN MORE ABOUT THE PODCAST LISTEN TO THE LATEST EPISODE
Think you might want to appear on a future show?
---