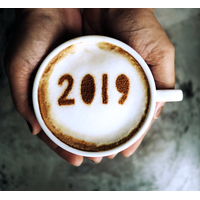 You're busy, we understand. And there is nothing worse than learning about an interesting event or opportunity after the deadline has passed. Wouldn't it be nice to know about all of our industry's most important events and activities in one, comprehensive place, and at the beginning of the year? We've put just such a list together for you. Now you'll be in the know all year long!
DOWNLOAD the full calendar here in PDF format.
Early January 2019
2019 State of the Food Travel Industry Report Released
Register your interest early or download when it's released here.
January 20, 2019
Final deadline to participate: 2020 Food Travel Monitor
Register to attend the overview webinar on January 8.
February 10-11, 2019
We'll deliver an Italy-centric food tourism session to delegates.
February 21-22, 2019
FoodTreX Pamplona | Regional Food Travel Summit
March 15, 2019
FoodTrekking Awards Applications Open
April 17-18, 2019
FoodTreX Global | Online Food Travel Summit
April 18, 2019
World Food Tourism Awareness Day
Look for more information here closer to the date.
May 31, 2019
FoodTrekking Awards Applications Close
October 7, 2019
FoodTreX Thessaloniki | Regional Food Travel Summit
November 3, 2019
FoodTreX London | Food Travel Innovation Summit
November 4-6, 2019
One or more food tourism sessions. Food tourism content in WTM sessions does NOT duplicate FoodTreX London content.
---