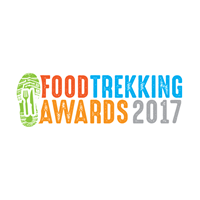 WORLD FOOD TRAVEL ASSOCIATION ANNOUNCES 2017 FOODTREKKING AWARDS WINNERS
Awards given for excellence in food and beverage tourism
PORTLAND, Oregon, USA (April 10, 2017) – The World Food Travel Association (WFTA), the world's leading authority on food and beverage tourism, announced today the winners of the 2017 FoodTrekking Awards for excellence in food and beverage tourism. Food and beverage is the fastest-growing sector of travel, itself one of the world's largest and most economically significant industries.
Rather than another Top 10 or Best Restaurants list, the FoodTrekking Awards are unique in that they recognize excellence in experience in multiple categories within the food and beverage tourism industry.
SELECTION PROCESS
Winners were selected from among all submitted applications. Judges were asked to evaluate the business strategy for the submitting company or organization; the marketing communications that support the product or business; the overall public reputation of the company or product; and as needed, the individual product itself. Each application was reviewed by a minimum of two different judges. For each category, there was one first place winner and up to one second place winner. Not all categories had second place winners. Applications for the 2018 Awards will open in October 2017 at FoodTrekkingAwards.org.
2017 WINNERS
This year, winners are divided into eight categories that celebrate excellence in food and beverage tourism:
Best Beer Experience
1st Place: Yakima Valley, Washington State, United States www.VisitYakima.com
Best Food/Beverage Tour Operations (Land)
1st Place: Eating Europe Tours www.eatingeuropetours.com
2nd Place: Traveling Spoon www.travelingspoon.com
Best Food/Beverage Tour Operations (Water)
1st Place: Bon Beer Voyage (Beercation Cruises) www.BonBeer.com
Best Food Travel Blogger
1st Place: Taste of Adventure Blog by Krystal Hauserman http://tasteofadventure.net
Best Food Travel Media
1st Place: Laura Reiley www.tampabay.com/writers/laura-reiley
2nd Place: GLP Films www.GLPfilms.com
Best Farm or Farmers' Market Experience
1st Place: Ranczo Frontiera www.seryowcze.pl
2nd Place: Eko Snails Garden www.SnailsGarden.com
Best Food/Beverage Destination Experience
1st Place: Province of Ontario, Culinary Tourism Alliance www.OntarioCulinary.com
2nd Place: Experience Grand Rapids www.experiencegr.com/biteseeing
Food/Beverage Event Experience
1st Place: Whistler's Celebration of Food & Drink www.WhistlerCornucopia.com
2nd Place: Prince Edward Island Fall Flavours Festival www.FallFlavours.ca
2017 JUDGES
Seven food, beverage, tourism and hospitality experts served as judges for the 2017 Awards:
Panna Balazsy (Hungary), Owner, Globalist Kitchen
Roberta Garibaldi (Italy), food and wine tourism consultant and coordinator of East Lombardy - European Region of Gastronomy 2017
Livio Colapinto (Italy), Owner, Zest of Italy
Katarzyna Janiszewska (Poland), Founder, pl
Udi Goldschmidt (Israel), culinary tourism consultant to Israel's tourism industry

Brian F. Lorge (USA), CCTP, HAAC (USA), Exec. Dir., American Culinary Federation, Michigan Chapter

Lawrence Acosta (USA), Owner, Grub Crawl
For more information on current and past winners, visit http://foodtrekkingawards.org/winners.
High-resolution, professionally taken photographs are available on request. For interviews with WFTA Executive Director Erik Wolf, or any of the winners, contact Kuvy Ax at 720.329.7327 or kuvy@rootpr.com.
ABOUT THE WORLD FOOD TRAVEL ASSOCIATION (WFTA)
The World Food Travel Association (WFTA,) founded in 2003, creates economic opportunities where food and beverage meet travel and hospitality. We are a hub that supports the economic viability of food, beverage, travel and hospitality industry stakeholders.
Food is a common denominator shared by everyone around the world, no matter where we live or where we travel. Our research shows that for 93% of travelers, food and drink create memories, and are not just meals purely for sustenance.
Without our distinctive food and beverage products, culinary cultures and local hospitality, the unique sense of place that inspires us to travel and even host visitors at home, would be forever lost.
Learn more at facebook.com/worldfoodtravel, pinterest.com/worldfoodtravel, instagram.com/worldfoodtravelassn, and twitter.com/worldfoodtravel.
KEYWORDS
food tourism; food travel; awards; culinary tourism; gastronomic tourism; wine tourism; beer tourism; food tours; wine tours; beer tours; food writer; food journalism; food travel journalist; winery; brewery; grocery store; gourmet store; farms; markets; food destination; food event; wine event; cooking class; cooking school; lodging; World Food Travel Association
News Release
For Immediate Release
Contact: Kuvy Ax
ROOT PR
(+1) 720.329.7327 (GMT-7)
kuvy(at)rootpr(dot)com
or
Erik Wolf
World Food Travel Association
(+1) 503.213.3700 (GMT-8)
erik(at)WorldFoodTravel(dot)org
---